2022 - Post Covid 19 Opening!!
Two shows to come!!
FIRSTLY - January 13th to 15th splendid renditions of Broadway musical songs in "B is for Broadway" at the Gaeity Bar, South Parade Pier, Southsea - see NEXT page for details.
SECOND - September 1st - 3rd . A full show:- "Mack and Mabel" at the Kings Theatre, Southsea. Returning to the theatre for the first time since Nov 2017!!
---
2020 October - Business Manager still required - NOW FILLED
A good time to start as duties are light because of Covid restrictions!
If you would like to help and keep this very professional yet amateur society going after some 62 years, then please email Emma at secretary@sdms.org.uk for more details and to arrange a chat with one or two of our committee.
---
9 Nov 2019 - Alan Pring GTCL LTCL - Retires!
Our long standing Musical Director Alan Pring, son of our President Audrey Pring, has waved his baton for his last show with SDMS. A full account appears is our show programme of Oklahoma! See Past Shows page.
---
6 Nov 2019 - Matt Sackman appointed director for our next show - RENT in April 2020
---
9 Oct 2019 - SDMS Treasurer position
Our Treasurer will be stepping down at the end of this year. This can initially be a minor book keeping / accounting role but with growing experience in matters arising about our Society will naturally become more involved. Basic role:- keeping a Receipts and Payments record with monthly bank reconciliations and providing such to committee meetings (8 per year). Year-end accounts are presented in full accounts format, showing accruals and liabilities. Previous well established formats are available. A more detailed job description will be available from treasurer@sdms.org.uk .
---
June 2019 - SDMS Business Manager position
We are currently looking to fill the position of Business Manager on our executive committee. Responsibilities of the role include:
Producing show budgets in consultation with the production team and the Treasurer. Liaising with the Production Secretary and Show Selection Committee regarding initial feasibility and costings for each show prior to presentation to the Executive Committee Liaising with show right's holders to book shows on behalf of the Society, once approved by the Executive Committee Attending meetings and negotiating contracts for theatre, sound, lighting, costumes and scenery hire for each production Liaising with production team and attending production meetings. Booking and arranging delivery of rehearsal material in time for the first rehearsal. Providing a report to the Committee ahead of each Committee meeting Working with Chairman and Treasurer to prepare the annual Trustee's report. In this role you would be supported by the rest of the executive committee including our Chairman, Treasurer, Secretary and Production Secretary. If you would be interested in undertaking this important role, which plays a key part in ensuring the success of the society, or would like some more information then please let us know by emailing Emma Brown Secretary@sdms.org.uk
---
NODA SE Region: Show Reviews
Click here for some NODA reviews of our shows ..... NODA SE
---
Nov 2018 - OKLAHOMA! Director announced - Our very own Jane Pegler - congratulations to Jane!
---
16 Oct 2018 - Sound of Music Director announced - John-Paul McCrohon. Congratulations to J-P.
---
6 Sept 2018 - Directors Required !!
OKLAHOMA! - In addition to the director required for Sound of Music, see previous Press note below, we also welcome applications for the role of Show Director for Oklahoma!; to be performed at Ferneham Hall, Fareham in Nov 2019.
Applications are required by 30 September.
See below for contacts
---
July 2018 - Sound of Music (July 2019) - Director Required
We will be performing Sound of Music at Fernham Hall in Fareham, July 2019.
Rehearsals will start 14 November and will be Wednesdays only until April 2019.
Applications are required by 30 September.
Please email our secretary Kate Walsh - secretary@sdms.org.uk for the requirements of your application .
Alternatively, for an initial conversation please contact our Production Sectreary, Alan Pring - alanppring@gmail.com, mobile 07969 631001 OR our Chairman, Alan Jenkins, chairman@sdms.org.uk mobile: 07894 582859
---
June 2018 - New Director appointed for Thoroughly Modern Millie in Nov 2018
We welcome Liz Marsh - an experienced and talented director/choreographer
---
Music of the Night......
We are performing a limited seating concert of Andrew Lloyd Webber songs in the Octogan Room at Ferneham Hall
Fri 11 & Sat 12 May 2018
Tickets are available from members or Ferneham Hall
---
Director required for - Thoroughly Modern Millie - Nov 2018.

Thoroughly Modern Millie, Director's Application Details
---
Director appointed for - The Producers - July 2018. We are pleased to announce that Jane Pegler will direct this show.
---
July 2017: Carousel Director - April 2018
We are delighted to announce that following a recent meeting of the SDMS Committee, John-Paul McCrohon has been selected to direct next years production of Carousel at Ferneham Hall in April.
---
Director required - The Producers - July 2018. Please contact our secretary Kate Walsh for details - secretary@sdms.org.uk
---
Top Hat is postponed until Nov 2018
---
February 2017, Daily Echo Curtain Call Awards at the Grand Harbour Hotel.
Best Actress in a Musical: Helen Stoddart. Rita O'Grady in Made In Dagenham. South Downe Musical Society. Helen impressively displayed humour, angst and pathos in equal measures.
---
2017 Advert for Director & Choreographer
Now postponed until Nov 2018
Director & Choreographer required
TOP HAT - 14 to 18 November 2017 at The Kings, Southsea
The award winning South Downe Musical Society are inviting applications to direct and choreograph Top Hat, our November show at The Kings in November 2017. Applicants need to have had relevant experience and will be required to send a CV to the Production Secretary Alan Pring - alanppring@gmail.com giving an indication of their vision for the show. Further information about the society and its rehearsal days and venues can be obtained by contacting the Secretary, Kate Walsh - secretary@sdms.org.uk. (See also the contact page on sdms website)
---
April 2016 - Hot Mikado - Press Review by Alan Johns of Curtain Call ........... A glowing review of this show may be found by clicking on the pdf attachment from Curtain Call .....

---
January 2016 - The News WOW247 Awards!
SDMS President Audrey Pring receives the Special Achievement Award from The News.
Audrey has been involved in show business for nearly eight decades, and Audrey Pring has now been given the Special Achievement Award at The WOW247 Awards for her outstanding contribution to the local arts scene.
Fifteen awards were given out during the ceremony held at The Kings Theatre in Southsea, celebrating the best in arts and entertainment from across our region, ranging from music to film, amateur dramatics, eating out and more. But 86-year-old Audrey was the star of the show.
As life president of South Downe Musical Society and founder of the South Downe School of Dance, she has worked with generations of actors and dancers. She said: 'It's lovely to get an award for something you enjoy doing. 'When the chairman at SDMS told me last week, I thought he was pulling my leg. It's wonderful. 'I like to think that some of those I've taught have learned something from me.'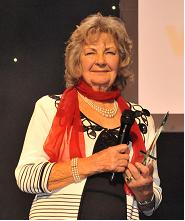 Photo courtesy of The News
Read more at The News
---
26 January 2015
NEWS Guide Awards 2014 Winner!
On Monday 26 January we won Best Amateur Musical with South Pacific!! A great night at The Kings Theatre where awards were aplenty and the 'Best of Portsmouth' shone!
Lauren Kempton, our very own star also did well, she was runner up Best Actress - for her role as Nellie Forbush in South Pacific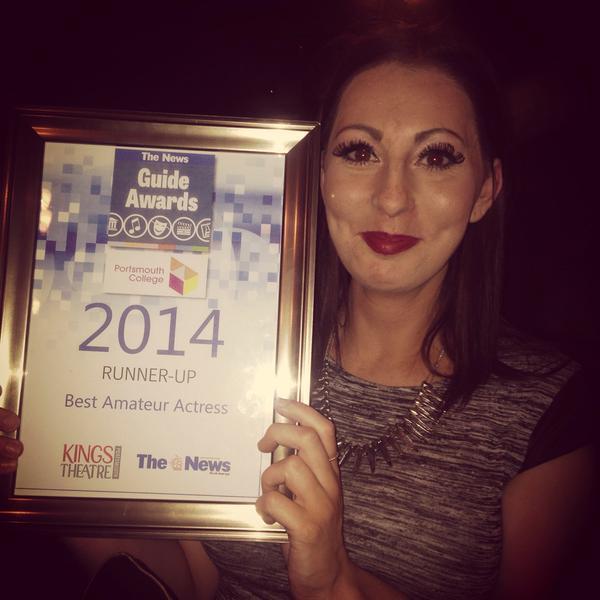 ---
January 2015:-
NEWS Guide Awards
We have been nominated for 3 Best Shows in a row and have an actress nominated!!
BEST AMATEUR MUSICAL PRODUCTION
White Christmas: Nov 2013, Kings Theatre, Southsea
South Pacific: April 2014,Ferneham Hall
Avenue Q: July 2014 Ferneham Hall
BEST AMATEUR ACTRESS : Lauren Kempton in South Pacific, she played Nellie Forbush with sassy conviction.
See The News Guide Fri 2 January 2015
---
8 November 2014:-
Last SDMS show for Audrey Pring MISTD MBTDA
Fiddler on the Roof - This is the perfect show with which to say thank you and farewell to our Life President and long serving producer and choreographer Audrey Pring. This will be Audrey's last show with SDMS as a Producer, though she will remain of course as our Life President and continue to provide valued input into the running of the society to which she has effectively dedicated her life.
Her professionalism, talent, drive, enthusiasm, loyalty and above all encouragement has led us to become the great outfit we are today, and they are a multitude of dancers, performers and directors locally who owe their entire on-stage careers to the advice given them by this magnificent lady.
Portsmouth NEWS interview with Audrey Pring - 8 Nov 2014
---
5 November 2014
NODA Award for our production of EVITA last year, presented to us by John Thomas, the NODA South East Region Representative with Alan Pring, Alan Jenkins and Danny Owen (All involved in Fiddler on the Roof too!)
---
Secretary Required - From February 2015
General
The person who takes on this role must be well organised and be able to check emails on a daily preferably. It is also important to attend rehearsals (Wednesdays mainly) in order to be made aware of any notices for distribution to the Society, cast or principal members as required. We have a bespoke SDMS email address for the secretary and other officers separating these from personal matters
Tasks
- compiling and then completing register of attendance at rehearsal.
- daily checking of emails with swift responses, correspondence etc
- communicating with company, committee, new members and outside agencies effectively
- co-ordinating with director to distribute audition materials and compile audition schedule
- overseeing audition night (unless also auditioning for a principal role)
- taking the minutes of committee meetings (8 per annum plus an AGM)
- distributing minutes and setting agenda for future meetings
- liaising with rehearsal venues (mostly arranged on show by show basis)
Further information from or direct applications to secretary@sdms.org.uk
---
Director & Choreographer required - SUNSHINE ON LEITH - APRIL 2015
SDMS are seeking applications for both a Director and Choreographer for their 2015 production of Sunshine on Leith, the brand new award winning musical based around the music of The Proclaimers. More information about the show and clips from the motion picture can be found online and reading material can be made available on request.
Rehearsals take place each Monday and Wednesday evening at Portchester Parish Hall and will commence following the principal cast auditions late November/early December. Performance dates of the show are Thursday 23rd to Saturday 25th April (including Matinee) at Fareham's Ferneham Hall.
Applications including a brief relevant CV and any rehearsal/production concepts should be received by September 30th 2014. Please send them to the SDMS Secretary at secretary@sdms.org.uk or in writing delivered at a Wednesday rehearsal before the closing date. Applications will be discussed at a committee meeting in early October.
---
Press reviews of AVENUE Q
12 July 2014
NODA ...........
Author: John E Thomas
Avenue Q is home to some lively and off the wall characters that are performed by an alliance of humans and puppets.
The story follows Princeton (Alex Hillman), who comes to New York City with big dreams and a tiny bank account. He soon discovers that the only neighbourhood in his price range is Avenue Q; still, the neighbours seem nice. There's Brian the out-of-work comedian (Stuart Cocks) and his Japanese therapist fiancee Christmas Eve (Sue Rourke). Nicky (Darren Alderton) the good-hearted slacker and his roommate Rod (Ross Cobbold), an Internet addict called Trekkie Monster (Alan Jenkins), a very cute kindergarten teaching assistant named Kate (Sally Goddard) and a night club singer Lucy (Helen Stoddart). Together, Princeton and his newfound friends struggle to find jobs, dates, and their ever-elusive purpose in life.
There was little to criticise in Matt Sackman's production well supported by choreographer, Kate Walsh. The Band under the baton of Alan Pring was excellent and the entire cast were superb. It was absolutely fascinating to see the puppeteers making the puppets shadow their own physical movement (or should that be the other way round?) with lip-syncing perfection. I thought Princeton, Alex Hillman, Trekkie Monster (Alan Jenkins), Kate (Sally Goddard) and Lucy (Helen Stoddart) (and puppets) were exceptional but this should take nothing from all the other puppeteers who were all absolutely amazing.
However much I eulogise about the furry members of cast and their manipulators I should not ignore the human members. We enjoyed great performances too from Stuart Cocks, Sue Rourke and Tatenda Madamombe as Gary Coleman, all larger than life Avenue Q 'human' residents who more than held their own amongst all the fur.
This show was obviously a team effort with the backstage crew as much involved as the cast. I could go on but if I do will end up with a long list of names! Suffice it to say the whole cast worked as one to create an outstanding performance. Once again a brilliantly directed show with an extremely talented cast!
11 July 2014
Portsmouth News ...........
"Avenue Q seemed to appear out of nowhere; channeling my childhood with crude songs, naughty jokes, and a plot line completely down to earth.
Avenue Q Ferneham Hall
The nostalgic similarity to The Muppets makes this musical seem familiar, as if you've seen it all before. South Downe Musical Society gave a flawless performance, making me laugh until I cried with lines I'm sure only puppets can get away with. The characters were easy to relate to, and completely believable. Main character Princeton, played by Alex Hillman, reminded me of How I Met Your Mother's Ted Mosby as he searched for his purpose in life, while Kate Monster (Sally Goddard) tugged at my heartstrings with a powerful rendition of There's a Fine, Fine Line."
KIMBERLEY DEWEY .............
Portsmouth News, on-line Theatre review
See also the review in .. Southern Daily Echo
---
May 2014
AVENUE Q
News Guide Award Winners South Downe Musical Society, recent winners for Best Musical, Best Actor and Best Actress, are venturing into new territory with their next production. For the first time performers will NOT ONLY be singing and acting to their usual high standard, BUT this time with the aid of hilarious puppet characters in the smash hit musical Avenue Q. The show was a smash hit when first released on Broadway and again won rave reviews on its first UK tour.
---
26 April 2014
South Pacific - Opening Night and Fri were a SELL OUT !!
Please see our reviews in the:
See our pre show press review in the Portsmouth News
---
Our Future Programme
SDMS are pleased to announce their calendar for the next twelve months with the securing of some amazing shows playing locally between now and next April.
This Year
South Pacific is at Ferneham Hall, 24 - 26 April with tickets selling fast (Box Office 01329 231942). That will be followed in the same venue by a first for both SDMS and Ferneham Hall, the hilarious puppet-driven musical Avenue Q, which swept the Tony awards when first produced on Broadway and now coming to Fareham (9 - 12 July). Please note this show is not suitable for under 14s but for everyone else it will be a fanatstic night out.
We revert to the more traditional in November (Wed 12 to Sat 15) with Fiddler On The Roof at the Kings Theatre, Southsea (Box Office 02392 828282)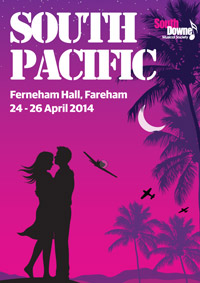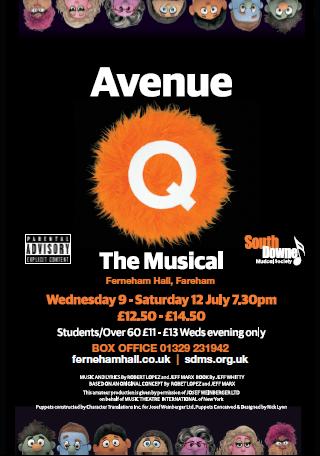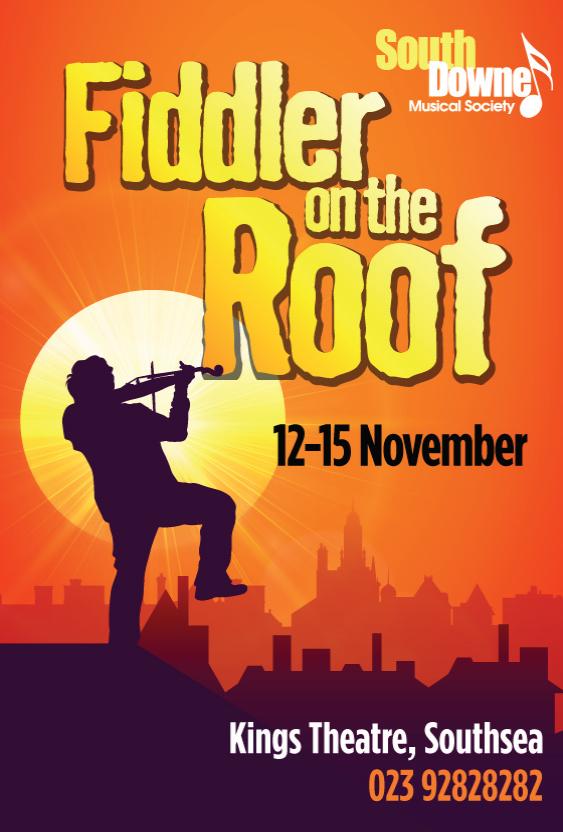 ---
Next Year - 2015
We are coming back to Ferneham Hall in a years time with another new musical Sunshine On Leith, based on the music of The Proclaimers and recently made into an award winning film.
Keep in touch with this website for further news and detail nearer the shows
please follow us on Twitter too !! .......... @southdowne