NODA SE Region: Show Reviews

Click here for some reviews of our shows ..... NODA SE

---

Shiela Justice - October 2020

With deep regret we have to announce the sad passing of a long standing SDMS member Sheila Justice, who passed away on Thursday 8th October.

Along with her husband Colin (a previous Chairman and busy backstage helper of SDMS) and her daughter Julie, Sheila was involved in every aspect of the society for many, many years. Our thoughts are with her family.

---

16 Oct 2014

Donation to Rowans Hospice - Avenue Q Collection

Audiences gave generously at our production of Avenue Q where a mad bucket collection ensued as part of the performance when cast ran amongst the audience with various collecting receptacles - hats included! We raised £621 and a large presentaion cheque was handed over at the weekend during a charity concert to raise funds for the Rowans Hospice. The South Downe Concert Party performed for this event and we see Jane Pegler who heads the group, handing over the cheque to the representative from the hospice.
---
10 October 2014
Matt Sackman appointed as Director for Sunshine on Leith next April at Ferneham Hall in Fareham. He will be pulling out the stops to produce this new venture for us. Matt is a well known SDMS member and his first role as director for us was our last production - Avenue Q. We are sure you'll agree that he did sterling work with that production so we are looking forward to seeing his vision for Sunshine on Leith!
Matt will be assisted by Alan Jenkins (our current Chairman and a leading player) who is also very keen to be involved in producing some of shows in the future
---
22 April 2013

Helen Stoddart abseils off Spinnaker Tower!

Helen risked all to abseil down the outside of the Spinnaker Tower at Gun Wharf on Saturday. The event was to raise funds for the 'Over The Wall' children's charity - helping to make children with serious illnesses smile! The event was attended by OTW supporters, shoppers and of course members of SDMS!

Helen is also starring as Polly, the lead role in Crazy For You this week at the Kings Theatre.
---
13 April 2013

55 Years of SDMS - Chairman, Alan Jenkins talks to the News

Our Chairman talks to the News, see the attached interview, courtesy of The News

News Guide re SDMS 55 Years

46kB, 2 pages
---
Our 2013 Shows ...
April 23 to 27, 2013 = Crazy for You

Tickets are available NOW from the Kings Theatre Box office - 023 9282 8282

or online at www.kings-southsea.com

July 10 to 13, 2013 = Evita

Tickets are also on sale already from the Ferneham Hall box office! Call 01329 231942

or on-line at www.fernehamhall.co.uk
November 2013 - Watch this space for news!
---
November 2012
Latest Award Nomination
The News Guide Award Finalists have now been revealed and it's great news once again for SDMS! Calamity Jane (Kings Theatre, Southsea April 2012) is shortlisted for Best Amateur Musical, Sally Goddard is shortlisted for Best Amateur Actress and Matt Sackman for Best Amateur Actor in the same production.
SDMS Member Helen Stoddart has also been nominated for Best Amateur Actress for Mary Queen Of Scots Got Her Head Chopped Off (HumDrum) and ex-member and Director of Chess and JCS John-Paul McCrohon has been nominated for Best Amateur Actor in Frost/Nixon so lots to celebrate!
---
CHESS review July 2012
Our local NODA Representative provided the attached review .....
NODA Review of CHESS July 2012 ................

242 kB, 2 pages


Portsmouth Evening News review of CHESS
---
News Guide Award 2011
We are delighted to announce that Jesus Christ Superstar, which we performed at Ferneham Hall in July 2011, received the runners-up award for Best Amateur Musical Production at the Guide Awards at the Kings Theatre on Monday 14 November 2011
The recognition from News readers and theatre critics emphasises what a great show it was, and what talent we have within the society - as well as the diverse nature of all our performers, who continue to shine in whatever type of production we choose to put on.
The award was collected on behalf of SDMS by Alan Jenkins, Paul Tully, Tom Hudson and Samantha Kelly (who beautifully sang "I Don't Know How To Love Him" and brought the house down!). We were supported by large number of society members in the audience and thanks to all of you for taking the time to attend.
To all those who were involved in JCS in whatever capacity take a bow!
---
Portsmouth News article June 2011 !!
Please click on the link below to read an interview with our chairman, Alan Jenkins, about our next show Jesus Christ Superstar as published by the News this month - June 2011.
---
November 2010 - SDMS has a double win in Portsmouth News Guide Awards
Helen played the part of Peggy in our production of 42nd Street in November 2009 and as you will read in the News she has played many versatile roles, hence she is a winner!
This award was for '42nd Street' produced by our very own President/Producer Audrey Pring in her 80th Year! Read all about it in the News.
~WebEd 9 Dec
---
February 2010 - SDMS Has a New website!
SDMS' website has had a complete refresh for the new decade! All the content from the old website, including the complete archive are available to peruse still, although some pages have retained the old format due to time constraints. With the new format we have a contact page for you to get in touch with the society, please see the contact page.
Thanks for visiting, and have a great 2010!
~SDMS website team
---
November 2009 - Paul Tully nets Best Amateur Actor award!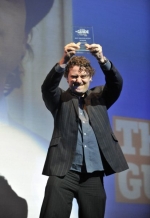 SDMS member Paul Tully receives his award for Best Amateur Actor at The Guide Awards ceremony held at the Kings Theatre, Southsea on November 16th 2009. Paul was recognised for his work over the previous year which included a memorable star turn as Professor Higgins in My Fair Lady at the Kings, and a tour de force performance as Jekyll (and Hyde) at Ferneham Hall in July.
Read more in The News
~Alan Jenkins